1545 La Mirada Drive San Marcos, CA 92069 Phone 760-510-4777
Auto Body Repair
Consumer Bill of Rights
A Consumer Is Entitled To:

• Select the auto body repair shop to repair auto body damage covered by the insurance company. An insurance company may not require the repairs to be done at a specific auto body repair shop.

• An itemized written estimate for auto body repairs and, upon completion of repairs, a detailed invoice. The estimate and the invoice must include an itemized list of parts and labor along with the total price for the work performed. The estimate and invoice must also identify all parts as new, used, after-market, reconditioned, or rebuilt.

• Be informed about coverage for towing services. Unless the insurance company has provided an insured with the name of a specific towing company prior to the insured's use of another towing company, the insurance company must pay all reasonable towing charges of the towing company used by the insured.

• Be informed about the extent of coverage, if any, for a replacement rental vehicle while a damaged vehicle is being repaired.

• Be informed of where to report suspected fraud or other complaints and concerns about auto body repairs.

More information can be found at the California Department of Insurance
Specialized in the
Collision Repair Industry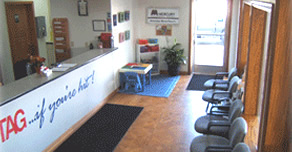 We have 1600 square feet of office space inside, which includes a spacious customer waiting area, a "kid's corner" with plenty of books and toys to entertain the little ones and large picture windows that overlook the shop.
We have put together a winning team of experienced collision repair professionals, from our knowledgeable estimators to our certified metal and refinish technicians. Our manager, estimators, technicians and support staff have years of in-the-trenches experience. Our technicians are I-CAR and ASE certified. Our equipment represents the latest advances in collision technology. We are experts in all makes and models and our lifetime warranty is sure to guarantee all of our work.
Here at TAG Collision Repair Center we offer you 100% honest and helpful advice at all times. We offer personal guidance through the Insurance claims process for all insurance companies. You can also expect that all of the work done to your vehicle will be guaranteed and under warranty for as long as you own the vehicle.
We want to make sure your experience at TAG Collision is a welcoming, positive and memorable one.
Spotlessly
Clean:
As our promise to you, your vehicle will be delivered to you looking better then ever. As a matter of fact, we painstakingly make every effort to thoroughly wash and clean your vehicle from bumper to bumper inside and out…GUARANTEED.
Free Pick Up
& Delivery:
Our objective is to make the entire experience as painless as possible. Just give us the address and we will do the rest. We can pick you up or drop you off at home or work. We can also arrange for Enterprise Rent-A-Car to pick you up from our shop once you drop off your vehicle at our facility.
Warranty:
Here at TAG Collision Repair Center, we offer a lifetime warranty for as long as you own the car. We guarantee all of our work. We are committed to exceeding your expectations. We won't make commitments we can't keep.
Read our Testimonials